THEWORKARY, HANWELL – *NOW OPEN*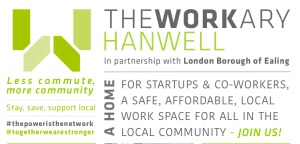 Hosting a thriving community of coworkers in industries ranging from web development to children's fiction, TheWorkary, Hanwell is ideally located on the first floor of the Hanwell Community Centre.
With on site parking for 50 cars, cycle racks, rail links via Castlebar Park and access via the E11, E1 and E3 buses, it's very easy to get to and return from TheWorkary, Hanwell each day. There's also incredible community facilities on site including a lovely local cafe plus…
large sports area for five-a-side football and basketball
boxing, judo and karate area + four badminton courts
art studio, basement for pottery, upholstery, scenery storage and production
We've space for 25x fixed desk Members + 15x flexi Members with desk prices starting from £75/month (ex VAT). If you / your team could benefit from the most affordable space in town (less than £3/day!) + connection to a community of like-minded members, we would love to hear from you – don't miss out, book your tour today! #thepoweristhenetwork
Book your tour today! #thepower isthenetwork
Less commute, more community – join us!