THE WORKARY, MAIDENHEAD – *NOW OPEN*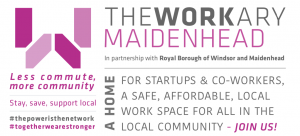 Less commute, more community – join us!
If you're looking for an alternative to working home alone, from the coffee shop or even the 'commute', we've got you covered! We have Fixed, Flexi + private office spaces for individuals + teams starting from as little as £3/day #togetherwearestronger
FREE PASSES – TRY BEFORE BUY 😎
Located above the Nicholson Centre + Maidenhead High Street with its rich bounty of deli's + coffee shops, the Workary, Maidenhead is ideally located 5x mins walk from Maidenhead Central Station.